Finding a great personal trainer in San Francisco, CA
shouldn't be so hard.
With

it isn't.
Search, compare, and book online with the

perfect 1-on-1 personal trainer.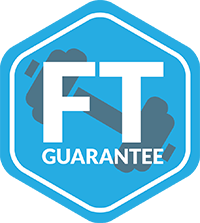 There is no upfront cost to signup on FitnessTrainer. If you are not satisfied with your first session,
we offer a full refund

for that initial session and will help set you up with a new trainer.
Featured Personal Trainers in San Francisco, CA

1 - 5 of 30 personal trainers near San Francisco, CA
Demetrios
San Francisco, CA
$222 /hr
Working from the center of the body (stabilization) and continuing outwa... Read more.
Sara
San Francisco, CA
$122 /hr
Weight Loss, Functional Training, Endurance Training, Strength and Condi... Read more.
John
San Francisco, CA
$122 /hr
"Change your lifestyle, change your body. Create sustainable change in ... Read more.
Michael
San Francisco, CA
$146 /hr
I'm a believer in numbers don't lie and the results will come. Read more.
Lindy
San Francisco, CA
$146 /hr
There are 168 hours in a week. 3 hours in a gym won't change you. The ot... Read more.

Trusted with over
100,000 hours

of sessions since 2013.
Messaging with Trainers
Input your zip code and answer a few questions to not only show the best results but to have trainers review your goals and send direct messages if they believe they are a good fit.

If there is a particular trainer you wish to ask a question or discuss your needs, you can message them directly from their profile page.
Selecting a Local Trainer
Once you have messaged with a trainer(s) and made your choice, sign up from the profile or messaging screens with no upfront cost.

Whether you have already messaged with your trainer or not, they will receive your contact info and be in contact to schedule your first session.
Select a Training Package
Select a training package and add your card on file to prepay for multiple training sessions during checkout. Billing will only occur upon getting in touch with your trainer and agreeing to work together

With your card on file, you can also easily select a new, or another, trainer at no additional cost. Our goal is to match you with the right trainer while being financially flexible. (lets discuss this section)
Love your session or it's free!
Satisfaction Guarantee. If you are not completely satisfied with the first session, it's free!
Are you a personal trainer looking to grow your client base?
Sign up to work with new local clients
Learn More
From social activists to tech trailblazers, San Francisco has always been a progressive city. We admire this mindset and aim to bring a modern approach to fitness. By bridging the gap between technology and people, FitnessTrainer.com has been able to efficiently match personal trainers with prospective students. When you input your zip code and utilize our search functions, you can browse through and choose a personal trainer who will customize a fitness program that is perfect for you. Whether you are looking to lose some weight this year or you want to try out kickboxing for the first time, we have a personal trainer in San Francisco who is willing to work with you.
Besides setting you up with personal trainer who can bring the best out of you physically, you can train at a time, price and location that will put your mind at ease. You pay a premium to live in such a vibrant city but it shouldn't be that way when it comes to fitness. You won't have to pay for expensive gym memberships or overpriced fitness equipment with FitnessTrainer.com. We simply aim to match you with personal training that will support you on your fitness journey. If you have any questions about personal trainers in San Francisco, booking online, or anything in between, please get in touch at [email protected] or 844-426-8489.
As featured in


Find trainers in cities near San Francisco, CA